Beautiful Kenai River is world famous for salmon fishing.  Relax and watch wildlife from Tanglewood B&B deck which overlooks a huge tidal flat.  Many breakfasts are interupted by moose, caribou, seals, and bald eagles.  After a full breakfast, take a run down to Ninilchik for halibut fishing, or dig razor clams at Clam Gulch.  Tanglewood B&B is two miles to downtown Kenai, airport, modern shops, stores and restaurants.
   Chris and Delora would love to have you stay with them in their remodeled 5400 square foot, three story home and become one of the family.


After a full day on the Kenai River, enjoy delicious meals at one of Kenai's many fine restaurants. Take in the scenic Kenai bluff which overlooks historic Cook Inlet with Mt. Redoubt volcano in the background.  Stroll on the Kenai beach and watch for beluga whales as they follow salmon up the Kenai River.  Fish several species of salmon in the Kenai River.  Bring binoculars, you won't want to miss anything!
Tanglewood Bed & Breakfast

2528 Beaver Loop Rd.

Kenai, Alaska 99611

   907 283-6771  fax: 907 283-6771


Tanglewood Bed & Breakfast in Kenai, Alaska
On bank of Kenai River on Alaska's Kenai Peninsula
View salmon rich Kenai River from Tanglewood Bed & Breakfast 

Stay Where the River Runs Both Ways.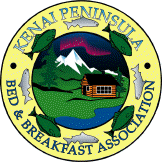 Tanglewood B&B--member of
Kenai Peninsula Bed and Breakfast Association
Kenai Convention & Visitors Bureau